Verratti's Market Value
Verratti Leaves PSG to Join Qatar. Paris Saint-Germain (PSG) previously valued Verratti at €80 million, but now, at the age of 30, the Italian midfielder is only worth €40 million, and hardly any club is willing to accept PSG's offer. The teams interested in Verratti mainly come from La Liga, like Atletico Madrid, the English Premier League, such as Liverpool, and the Saudi League.
As PSG's midfield core over the past several seasons, Verratti has performed excellently in the league. However, his transfer market value isn't very high, mainly because of PSG's poor performance in the Champions League. Overall, Verratti is one of the few PSG midfielders who can create opportunities for the forward line with his precise skills, dribbling ability, and sharp passing. Nevertheless, due to his physical attributes, he can't provide significant defensive support. Still, he remains one of PSG's best midfielders.
Verratti's Departure from PSG
In 2008, Verratti began his career at Pescara. In July 2012, he transferred to PSG for €12 million. Verratti has played a total of 416 games for PSG, helping the club win nine Ligue 1 championship trophies. He is now one of the oldest players at PSG. Under the guidance of the newly appointed head coach, Luis Enrique, he has been mainly on the bench this season.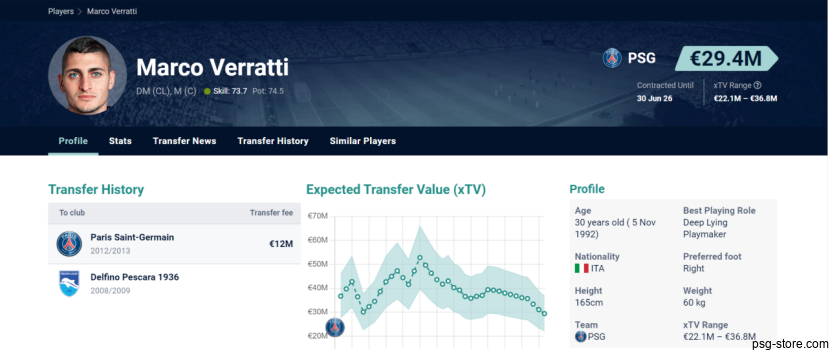 PSG sold Neymar this summer. At the same time, PSG, whose contract with Verratti was valid until the summer of 2026, agreed to a €45 million transfer fee for Verratti. According to Italian journalist Fabrizio Romano, Verratti Leaves PSG to Join Qatar. He is reportedly set to travel to Doha in the next 24 hours. The days of bidding farewell to his 11-year life in Paris are approaching.
29-year-old Draxler also Joins Qatar
Another PSG player, Draxler, has also joined Qatar, Asheli. Draxler was loaned to Benfica last season, where he made only 10 appearances in the Portuguese league and scored one goal. Currently, his transfer value is €6 million.