PSG defeated Lyon 4-1, with Mbappé scoring twice. Let's take a look at Mbappe and the latest game.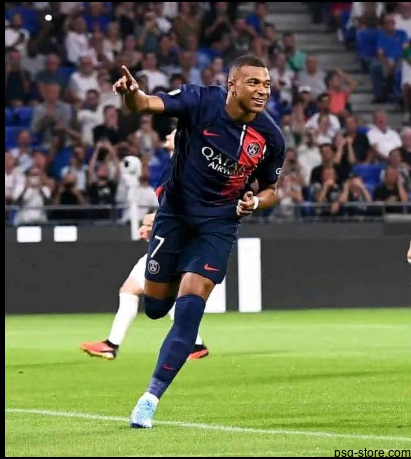 Birthplace and Early Life:
Kylian Mbappé was born in the Bondy district of France, which is a suburb of Paris. He hails from a football family, with his father having been a professional football player, and his younger brother actively involved in the world of soccer.
Professional Career:
Mbappé's professional football journey began at AS Monaco, and later, he made a high-profile transfer to PSG, becoming one of the world's most expensive players. He is also a member of the French national team, representing his country in international matches.
Speed and Skills:
Mbappé is renowned for his incredible speed and exceptional football skills. His speed allows him to easily break through defenses and create scoring opportunities.
Scoring Ability:
As a forward, Mbappé possesses remarkable scoring ability. He can score goals and create scoring chances for his team, both at the club and national team levels.
Achievements:
In his relatively short career, Mbappé has amassed numerous honors, including domestic league and cup championships in France, as well as outstanding performances in international tournaments.
Charitable Work:
Mbappé is also well-known for his charitable work. He frequently engages in social initiatives, particularly those related to children and young people.
The summer transfer window for the top five European leagues has closed. It brings an end to the suspense surrounding the future of Kylian Mbappé. The enigmatic drama surrounding the French forward's destination has finally concluded. Mbappé opting to stay at the Parc des Princes despite his refusal to renew his contract. Paris Saint-Germain (PSG), in a strategic move, bid farewell to Neymar and secured new signings such as Muani and Dembélé. It's safe to say that in the realm of Ligue 1, PSG remains an undisputed force.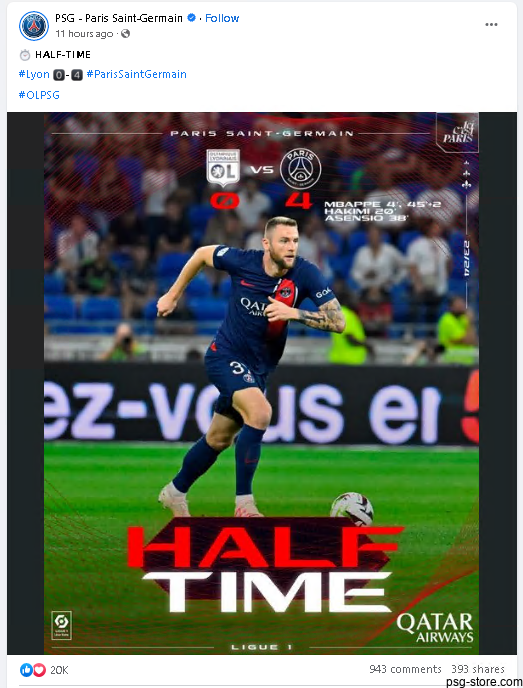 PSG defeated Lyon 4-1
As the 2023/2024 Ligue 1 season unfolds, Lyon, once a dominant force in French football, hosted the current Ligue 1 powerhouse, PSG.
In the first half, it took only four minutes for Mbappé to break the deadlock with a penalty.
PSG's Achraf Hakimi fired a close-range left-footed shot into the net In the 21st minute.
In the 38th minute, Asensio found the mark from the center of the penalty area, the ball curling into the net from the bottom left corner.
Then, in injury time of the first half, just after scoring, Asensio provided a through ball for Mbappé, who coolly slotted home. Mbappé completed his brace in the first half.
And in the second half, Lyon's Torisso managed to pull one back with a right-footed shot into the bottom right corner.
However, neither team managed to score any further, and PSG ultimately triumphed 4-1 away against Lyon. With two consecutive victories, they climbed to the second position in the league standings.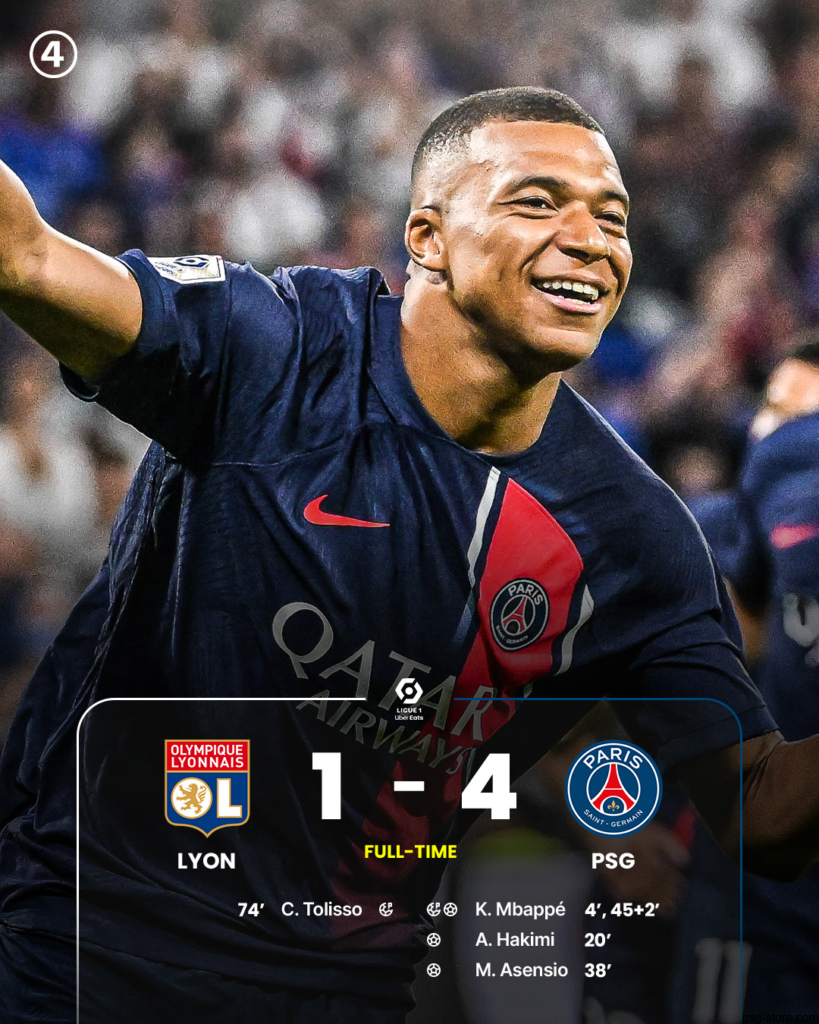 In this match, PSG defeated Lyon 4-1, with Mbappé scoring twice. In the last three rounds, he has already netted five goals. Remarkably, he has either scored or assisted in his last 13 appearances for both club and national team. It sets a new personal record.